Tim Livingston owner of LivFit, is the Premier
Muscle System Specialist in New England.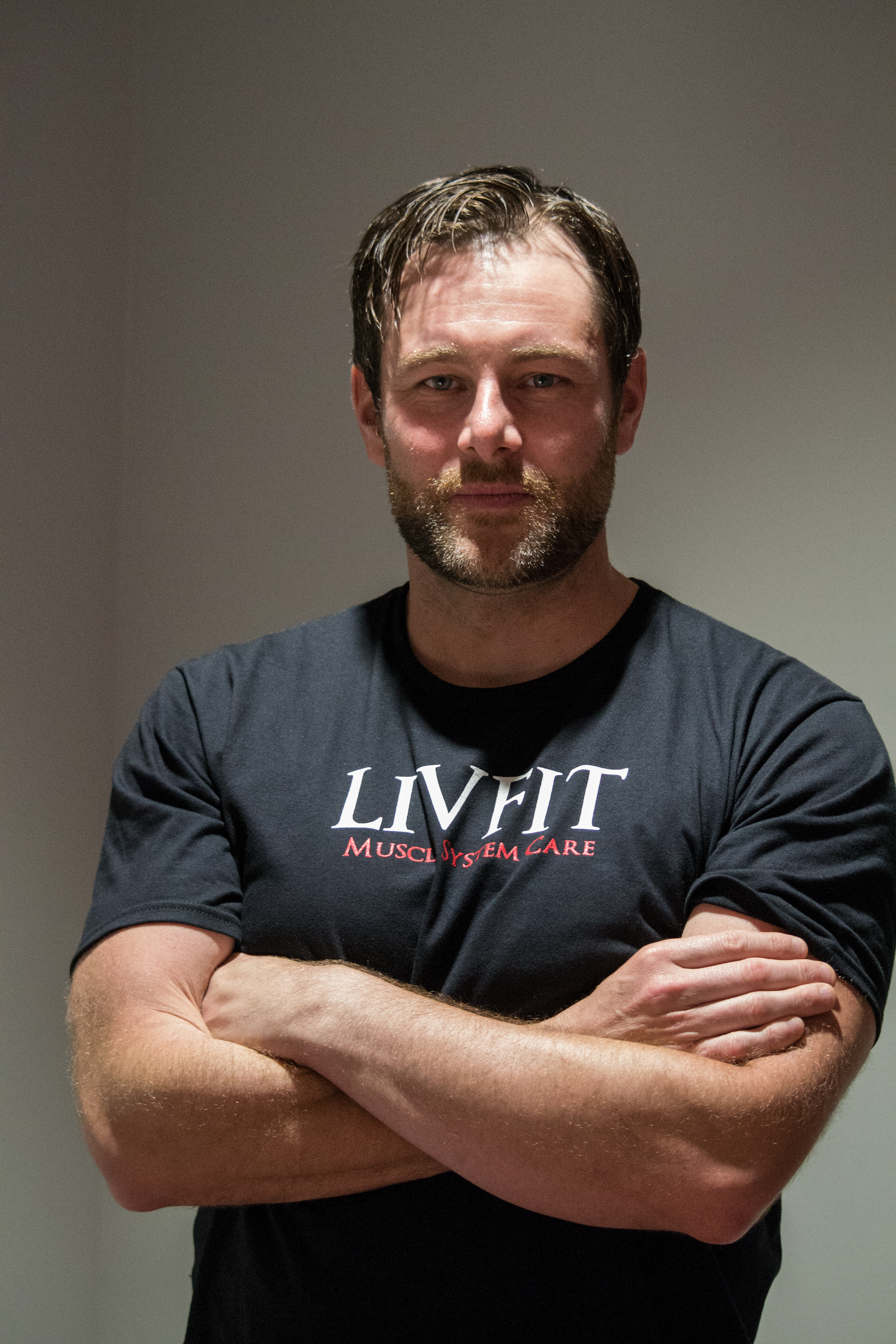 At a young age I realized that exercise, health and fitness were my passions. Now, with almost 20 years in the health and wellness field I spend my days assisting others in reaching their fitness and health goals.   From injury rehab to elite training I can apply the latest techniques in Muscle System Care and Resistance Training to help everyone achieve their optimum performance.
In addition to being recognized as a Mastery Level Resistance Training Specialist, I am the only recognized Muscle System Specialist in New England.
I look forward to meeting you so we can customize a program for your specific needs. Together we can plan your future fitness goals and formulate a program to help heal any current injuries and prevent future ones from occurring as we attain your goals.  In addition to helping others as a Muscle System Strategist, I'm an avid cyclist and currently compete in mountain bike competitions.
Tim Livingston, LivFit
As a young athlete, I would injure myself and do the same routine every time; ice, rest for a bit, then jump back into the sport I was doing. Over the past couple of years, my injuries were becoming more consistent and in the same location. I started working with Tim two months ago, with a pulled hamstring and a neck injury that wouldn't completely heal. Tim was able to find out the root of the problem, my uneven hips and many under active muscle complexes. We were able to strengthen those muscle groups with using simple exercises he gave me to do before and after jiu jitsu. After a month and a half of working with him I was able to get back into training. By the second month, my body, especially my hamstring and neck felt great! It's an amazing feeling to be back on the mats, advancing in Jiu Jitsu and life! I have a better understanding of my body after working with Tim, Thank you!
I started going to Tim when my lower back pain was taking a toll on my everyday life. I'm 19 and I should definitely not be having back issues this early on. I thought that it was common since I'm very into weightlifting, but when it was a constant pain I figured I should do something about it. After about 6 months of chiropractor visits and physical therapy, i had little to no relief. BUT, after only 4 weeks with MAT, I had no pain while in the gym or in my day to day life. MAT is extremely effective and I experienced great results in such a short amount of time. Tim is so passionate MAT and he is amazing at what he does!!
Tim is clear about what he is treating, and can recommend a workout with modifications that keeps me active and free of pain. No other therapist or trainer has been able to modify my workout so precisely. He understands the physics of how the body moves and can make very fine adjustments to the angle or range of a motion so it reduces strain on weak areas. He's positive and encouraging and helps me set realistic goals.
My shoulder/rotator cuff issue was persisting for more than 18 months. I had tried chiropractic treatments as well as acupuncture and nothing worked. Once I started working with Tim and his Hybrid PT MAT™ technique I felt some relief after just one session, and was completely healed after about 10-12 sessions with no recurrence. I have also been working with Tim as a Personal Trainer for about two years and I'm in the best shape of my life. His workouts are targeted, efficient, and get results.
I have been training with Tim for over three years. He is passionate about fitness, and it shows through the energy and enthusiasm he brings to each session. He establishes individualized exercise programs that are both challenging and realistic. His exceptional knowledge and education, combined with his bright, patient, and encouraging personality, create a standard by which all trainers should aspire.
I met Tim in 2005 and learned how to exercise. He has not only taught me proper form and technique over the years, but he has always customized my training program as we both continue to evolve with my skill and his education. We could not have maintained a relationship this long without his continued education incorporating fun, interesting and new ways to achieve my overall fitness and health goals. Training with Tim is a lifestyle for me.