Tim Livingston owner of LivFit,
is the premier Muscle System Specialist in New England.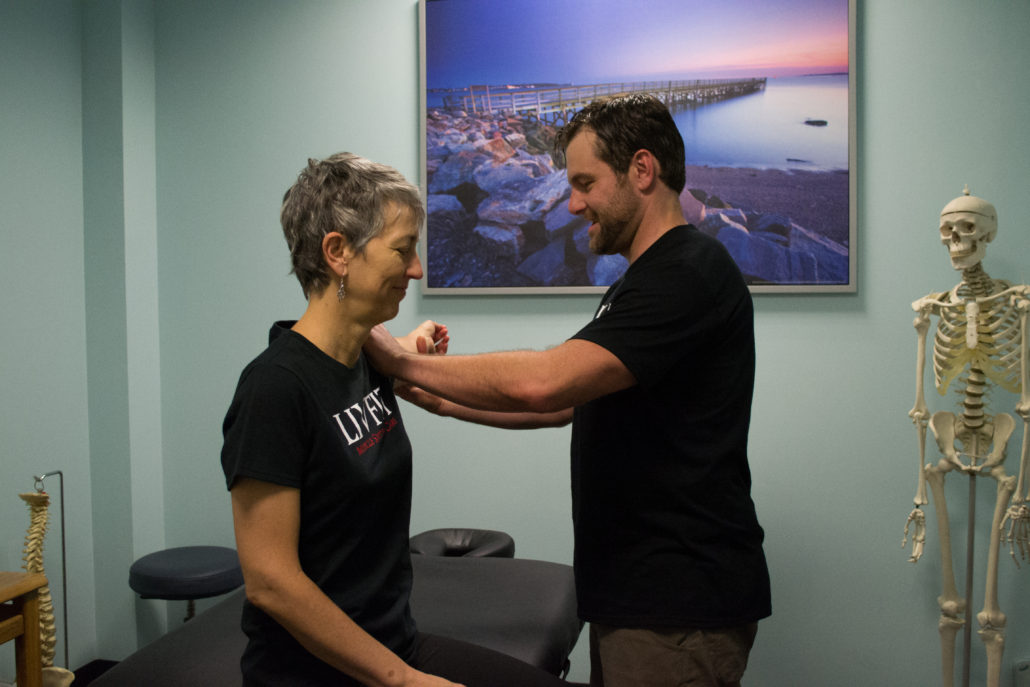 What is Muscle System Care?
Aging, injury, stress and surgery can shut muscles down. When this happens other muscles have to compensate in order to pick up the slack. Over time they become overworked, tight and painful.
As a Muscle System Strategist, I am able to identify and reactivate the weak, shut down muscles and create balance in the muscular system. Clients often report improved motion, strength, flexibility and significant reductions in pain after the very first session.
I met Tim in 2005 and learned how to exercise. He has not only taught me proper form and technique over the years, but he has always customized my training program as we both continue to evolve with my skill and his education. We could not have maintained a relationship this long without his continued education incorporating fun, interesting and new ways to achieve my overall fitness and health goals. Training with Tim is a lifestyle for me.
I had hip surgery about 7 months ago and consequently went through 6 months of physical therapy to rehab from the surgery. While the therapy obviously helped me make progress over the 6 months, I made more progress with Tim in 2 days than I did during my entire stint at physical therapy. I have been a competitive athlete (ice hockey and lacrosse) my entire life accompanied with my fair share of injuries, and working with Tim was hands down the best and most effective mode of therapy I have ever received. His knowledge and experience enables him to truly personalize treatment to every single client, and he is concerned with helping everyone meet their specific rehabilitation goals, not just discharging patients once they are "functional." As someone hoping to become and orthopedic surgeon, working with Tim has been an incredible motivation for me and has given me an even greater respect for and understanding of the human body. Ultimately, I truly believe I will be able to provide better care for my future patients after working with Tim.
My shoulder/rotator cuff issue was persisting for more than 18 months. I had tried chiropractic treatments as well as acupuncture and nothing worked. Once I started working with Tim and his Hybrid PT MAT™ technique I felt some relief after just one session, and was completely healed after about 10-12 sessions with no recurrence. I have also been working with Tim as a Personal Trainer for about two years and I'm in the best shape of my life. His workouts are targeted, efficient, and get results.
Tim is clear about what he is treating, and can recommend a workout with modifications that keeps me active and free of pain. No other therapist or trainer has been able to modify my workout so precisely. He understands the physics of how the body moves and can make very fine adjustments to the angle or range of a motion so it reduces strain on weak areas. He's positive and encouraging and helps me set realistic goals.
I have been training with Tim for over three years. He is passionate about fitness, and it shows through the energy and enthusiasm he brings to each session. He establishes individualized exercise programs that are both challenging and realistic. His exceptional knowledge and education, combined with his bright, patient, and encouraging personality, create a standard by which all trainers should aspire.